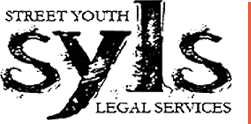 SYLS is a program that provides legal information, advice, referrals and representation to street-involved youth through workshops and individual consultations.

Street-involved young people often have multiple and interconnected legal problems. Complex barriers, including a lack of financial resources, social isolation and mistrust often prevent our clients from getting the help they need.
SYLS delivers legal services directly to young street-involved people in drop-in centres and shelters – the places where they congregate to access other services, such as health care, food, employment assistance and counseling. It is our goal to educate young people about the value of law to empower even our most vulnerable citizens. SYLS also leads legal education workshops and law reform activities with youth and persons advocating on behalf of street involved youth.
SYLS is a program of Justice for Children and Youth has received over 16 years of funding from the Law Foundation of Ontario; and in 2016, SYLS received core funding for the program from Legal Aid Ontario. For more information about SYLS, please contact us.
Legal Services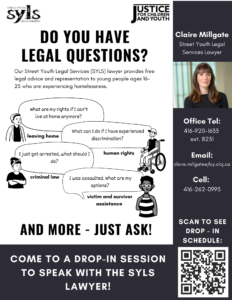 The SYLS lawyer will provide legal information, advice, and referrals to all street involved youth that contact JFCY directly or through the drop-in's.
When selecting clients for legal representation, the following factors will be considered when deciding whether a client is able to be represented by the SYLS lawyer:
Is the legal problem a chronic problem for the SYLS population?
Is the legal problem a problem unique to the SYLS population?
Is the legal problem one that the client has no other potential places to obtain representation or co-ordinated legal help?
Does the client have specific vulnerabilities (e.g: age/disability/marginalized) that makes it difficult/impossible for them to effectively access other legal help?
Does the SYLS lawyer have time/resources/expertise to represent the client?
Drop-in Schedule
Every other Tuesday 
1:00 pm – 2:30 pm: YMCA Drop-in (7 Vanauley Street)
Every Thursday
1:00 pm – 2:30 pm – Evergreen Centre for Street Youth (381 Yonge Street)
Every Friday
12:30 pm – 2:00 pm – Covenant House (20 Gerrard St E)
Educational Workshops for Youth and Agency Staff
The SYLS lawyer provides individually tailored educational workshops on a variety of topics. If you would like to book a workshop with the SYLS lawyer, please contact us.
The Street Law Smarts fact sheets were last updated in January 2015 and are available on our Publications page.
SYLS Lawyer's Presentation – Privacy and Street Stops, 2012
Community Development and Law Reform
In addition to acting on advisory committees for projects focused on youth homelessness, SYLS has two active community development and law reform projects.
43%, 57% and Child Welfare
In 2011, SYLS, the Canadian Homelessness Research Network, and Raising the Roof came together to brainstorm about the glaring problem that many research reports and anecdotal accounts inform us – that 43% of street involved youth have previously had interactions with the child welfare system.  Together, we formed a steering committee titled '43%' to undertake research, community development, policy and law reform activities. This year, we are continuing on our research agenda with a team of students from Pro Bono Students of Canada. We are also seeking connections with stakeholders interested in improving the safety and security of homeless youth leaving child welfare care, or becoming homeless at an early age without the assistance of child welfare agencies.
SYLS Lawyer's Presentation – 43% and what about the other 57%, 2012
Submission to Provincial Child Advocate's Youth Leaving Care Hearings, 2011

Youth and Policing Group
Based on a number of consultations with street involved youth over the last two years, our law reform and advocacy activities for 2012-13 will focus on youth records, carding and human rights in policing, provincial offences ticketing options, and the creation of a working definition for youth.
Reports and Other Materials
Article on Access to Justice Through Street Youth Legal Services published in Parity Magazine's issue dedicated to Preventing and Sustaining Exits from Youth Homeless in Canada, Oct 2019 Vol 32 – Issue 8.
Chapter on Addressing The Legal Needs of LGBTQ2S Youth Experiencing Homelessness, published in Where Am I Going to Go? Intersectional Approaches to Ending LGBTQ2S Youth Homelessness in Canada & the US, by Abromovich A & Shelton J (Eds), 2016.
Submission to the UN Committee on the Rights of the Child on Children in Street Situations, April 2016.
Perspective: Personal Experiences of Racialized Youth in their Interactions with Toronto Police Services and the Barriers they face to Obtain Justice, discussion paper for the Ontario Human Rights Commission's Racial Profile Policy Dialogue held in Feb 2016.
Street Youth of Toronto, 2015 photo project.
Access to Justice for Homeless Youth, feature article in Housing Again Bulletin, Nov 2014.
Can I See Your ID? The Policing of Youth Homelessness in Toronto, 2011, by Stephen Gaetz, Bill O'Grady, and Kristy Buccieri, conducted in partnership with JFCY.
Surviving Crime and Violence: Street Youth and Victimization in Toronto, 2010 Report, and the accompanying Town Hall Presentation, 2010 Slides.
Changes – The Affidavit Project, 2011 Report, captures the experience of youth and their first-hand interactions with police officers.
Homelessness Youth and Access to Justice, 2002 Report.