PNG version of JFCY infographic below and click here for PDF version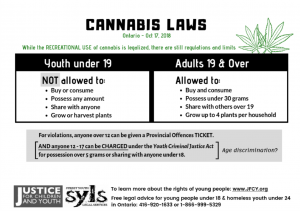 Note: original infographic stated that use in public space will not be allowed; the Ontario government has changed their position and has restricted public use in ways similar to alcohol and tabacco restrictions. Please ensure you have the correct version of the JFCY infographic.
Possession of small amounts of cannabis by adults for recreational use will be permitted in Canada. These laws are different from the medical use of cannabis. These changes do not mean full legalization. Below are some of the laws – visit the government websites listed below for full details.
The federal laws apply across Canada, however, the Provinces and Territories will each have their own laws that may restrict further. It is important to look at the laws within your Province.
If you are travelling within Canada, you will be subject to the laws of the Province you are in.
If you are travelling outside of Canada, it is illegal to take (recreational and medical) cannabis across international borders.
Federal – Canada
Below 18 (Provinces can increase this age, in Ontario it is 19 – see Provincial section below):
Can be charged for possession and/or distribution of over 5 grams
Not allowed to have any plants
Sentencing will be under the Youth Criminal Justice Act
Adults 18 and over:
Can be charged for possession over 30 grams
No distribution or sharing with someone under 18 (or the age set by the Province that you are in)
Can have up to 4 non-illicit plants per household (not per adult)
Provincial – Ontario
Ontario will treat cannabis similar to the way alcohol is treated; provincial offence tickets, similar to Highway Traffic Act.
Below 19
Not allowed to possess, home grow, share or use
No one can distribute or share with someone under 19 years of age
Identification will be required to buy if you look under 25
Education Act (elementary – secondary school)
This has not changed: a suspension may be considered for a student under the influence or in possession of cannabis; and a suspension will be required and an expulsion may be considered if a student gives cannabis to someone under 19.
Adults 19 and over
Posession of a maximum of 30 grams
No use in workplaces or while operating motor vehicle
Sold online through the Ontario government starting Oct 17, 2018; and available through private-run stores in April 2019
No impaired driving
Zero tolerance for drivers under 21 or those with G1/G2 licence
Violations:
Anyone over 12 can be given a Provincial Offences TICKET
AND anyone 12 – 17 can be charged under the Youth Criminal Justice Act for possession over 5 grams or sharing with anyone under 18
Age discrimination:
JFCY is concerned that a young person 12 – 17 years of age may be subjected to criminal sanctions and records, whereas an adult can not be for the same offence(s)
Some of these concerns have been also raised in a Robson Crim Blawg post
For more details: