Young Canadians File Court Challenge to Lower Federal Voting Age – Calling it Unconstitutional – TORONTO, Dec. 1, 2021 – A group of Canadian children and youth are set to make history, opening the possibility that they and their peers may be able to cast a ballot in the next federal election. The 13 young people range in age between 12 to 18 years old and hail from coast to coast to coast, including Nunavut, British Colombia, Alberta, Saskatchewan, Ontario, Quebec, and Nova Scotia.
Section 3 of the Canadian Charter of Rights and Freedoms states that all Canadian citizens have a right to vote in federal and provincial/territorial elections, and section 15 states that everyone is equal before and under the law without discrimination based on age. Additionally, the Supreme Court of Canada, in the case Frank v Canada, made it clear that any limit on Canadians' right to vote must be clearly justified. Children represent nearly one quarter of Canada's population, yet they remain the only disenfranchised citizens in our society. Read full Media Release
The children and youth at the centre of this case are represented by JFCY and the David Asper Centre for Constitutional Rights.
The infographic below provides some historical and current context to the case – materials will be updated as the case proceeds.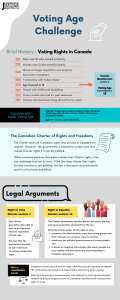 Icons for social media: