ABOUT THE PROJECT
Enhancing Access to Special Education (EASE) is a project focused on developing resources to support students & families to navigate the special education system. We heard from students, caregivers, educators, and community supports about their experiences and expertise in navigating special education processes. Based on the feedback and recommendations, we have developed a comprehensive guide (available below) and continue to develop other resources. A report that highlights the feedback and recommendations from the consultations will be available soon.
MATERIALS
The Special Education in Ontario: A Guide for Students and Caregivers is available for download below, in full or section-by-section. There are also five flowcharts on the main processes available to print below.
Please take a moment to provide us with feedback on the guide and/or flowcharts. All suggestions are encouraged.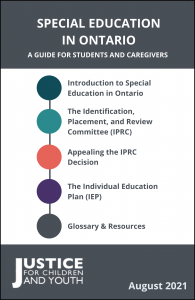 Full Guide
Sections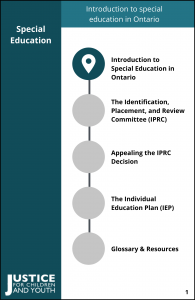 Introduction to Special Education in Ontario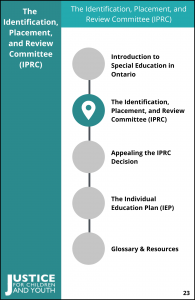 The Identification, Placement, and Review Committee (IPRC)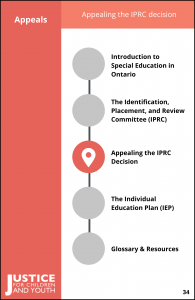 Appealing the IPRC Decision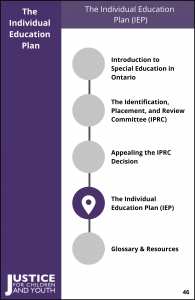 The Individual Education Plan (IEP)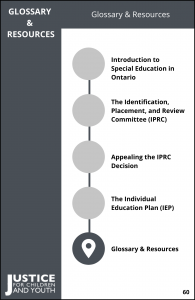 Glossary and Resources
Flowcharts:
 Journey Through Special Education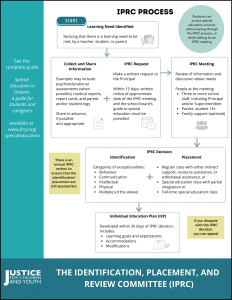 Identification, Placement and Review Committe (IPRC) Process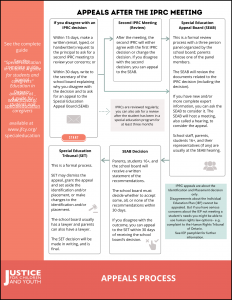 Appeals – After the IPRC Process
  Important Deadlines for Appeals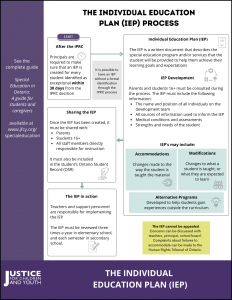 The Individual Education Plan (IEP) Process
Coming Soon
A series of short, animated information videos on key special education processes, including the Identification, Placement, and Review Process (IPRC); the Individual Education Plan (IEP); and what special education means for students and families.
Thank you to all the students, parents, caregivers, community support workers and educators for your involvement. 
Questions? Please Contact:
Erica Lalonde
Program Manager – Enhancing Access to Special Education (EASE) Project
lalonde@lao.on.ca
Instagram @jfcy.ease
416-920-1633 or 1-866-999-5329 (toll free in ON)
leave message with the main office line and we will return your call as soon as possible
The EASE project is generously funded by the Ministry of Education