About the Project
JFCY is developing accessible, student-and family-friendly resources to help navigate the special education system.
We recognize that navigating different special education processes can be challenging, and it can often feel like you are alone on the journey.
What is special education?
Everyone has different learning needs. Students who are defined as "exceptional" have a right to special education, which provides modifications and/or accommodations to support the unique learning needs of the student.
There are five categories of exceptionality:
Behaviour
Communication
Intellectual
Physical
Multiple (more than one exceptionality)
In order to be identified as exceptional, the journey begins with an Identification, Placement, and Review Committee meeting. If the student is identified as having an exceptionality, they will be considered for a special education placement. And this is just the beginning!
There are many steps along the special education journey. The flow chart below outlines the various stages that may occur (not all are mandatory, eg there may not be much data available but you can still have an IPRC):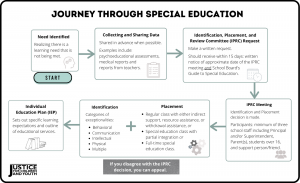 Link to text of Journey Infographic
As you can see, there are many steps along the way, and a lot of information to learn how to best advocate. As we develop new materials to support you along the way, we want to make sure that what we create is useful to you. Our current legal information can be found on our Legal Wiki in text format and downloaded in PDF format.
     Our Approach
We want our new materials to be accessible and useful to students and families, and as such, need to be informed by students, families, educators, and supporters.
Your experience and expertise will help us to make sure that what we create helps families understand their rights and responsibilities in advocating for their child, and helps students advocate for their own needs.
     We Want to Hear From You
Ways to get involved:
Complete a confidential online survey – only share what you want!
Participate in a virtual, small group discussion – share your contact information at the end of the survey, or letting us know through the contact information at the bottom of this page
Email your experiences and perspectives through the contact information at the bottom of this page
Share our information with others who might be interested in participating
Follow and share our content on Instagram! Find us @jfcy.ease
Surveys – please complete the one for the role you have in this process:
StudentParentCommunity SupportEducator
Information flyer – in colour, plain, and text:
Questions? Please Contact:
Erica Lalonde
Project Manager – Enhancing Access to Special Education (EASE) Project
lalonde@lao.on.ca
Instagram @jfcy.ease
416-920-1633 or 1-866-999-5329 (toll free in ON)
leave message with the main office line and we will return your call as soon as possible